How to Register in the Forum
At the top of the Forum main page. Click on

On the next page, in the box called "Forum Rules" you should read the forum rules and then put a check mark (tick) in the box located at the bottom, to say that you agree and abide by the Farm Town Rules and then click on "Register"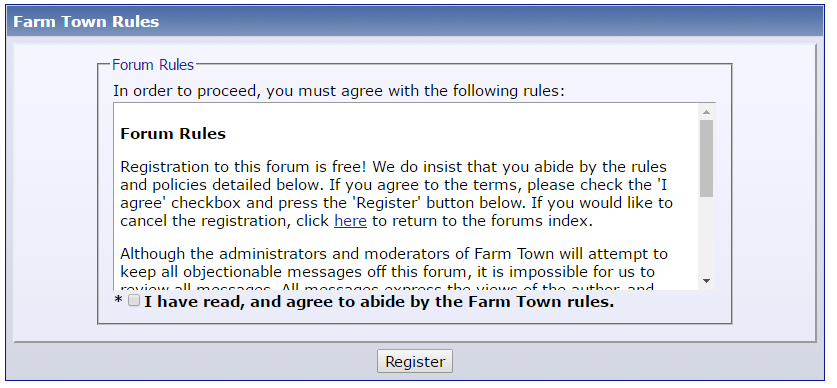 The next page is split into two sections. This picture shows the top section.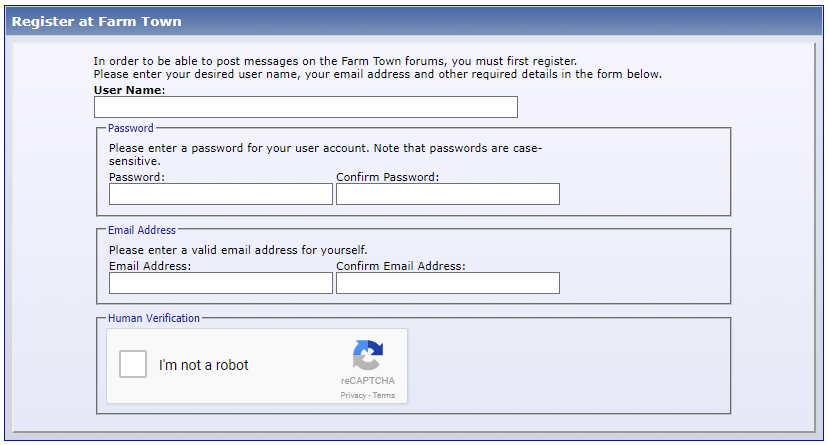 In the first box,"User Name", type a username of your choice. As you are typing a box will appear underneath which will let you know if your username is available or currently "in use"

or

In the "Password" section, you will need to type a password, that you wish to use. Be sure to make a note of it, so that you do not forget it. You will need to type it twice, once in each of the password boxes.
In the "Email Address" section, you need to enter your email address. You will need to type it twice, once in each of those email boxes.
In the "Human Verification" section, you need to click in the white box and wait for a green check mark to appear.

[/indent]
Then move onto the lower section called "Additional Information".
This picture shows the lower section. This is were you can enter some information or choose some settings.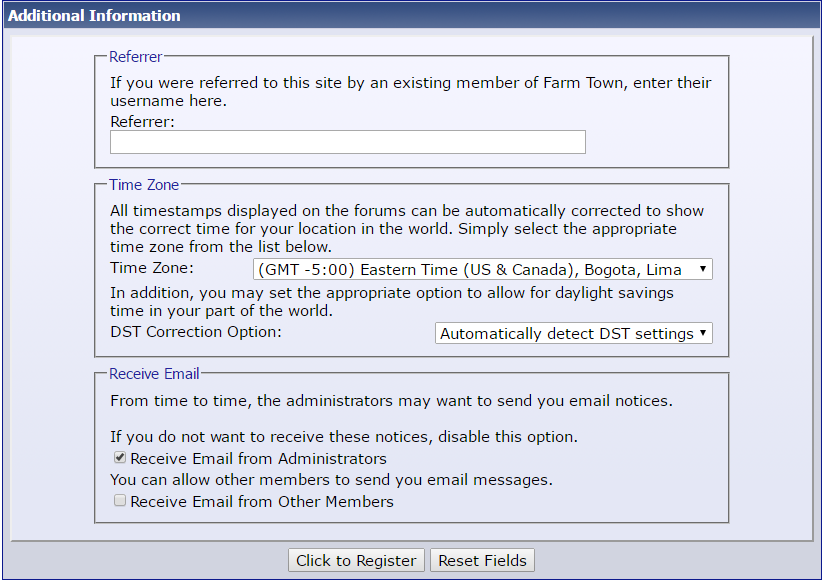 In the "Referrer" section, if someone has recommended the forum to you and you know their username, you can enter it here. This does not need to be filled out.
In the "Time Zone" section click the drop down arrow of the first white box, to select the time zone for your own country.
If you are in a part of the world where the clocks are altered , twice a year, for daylight savings, then you can select that the time is altered automatically for you, by clicking the drop down arrow in the second white box.
In "Receive Email" there are two options, one for administrators to email you and one for members to email you. Check the small box in each section, if you wish to enable Administrators/Members to email you. Remove the check mark from the box if you do not wish to allow that.
The LAST step in this section is to click on

You will then be directed to another page, which tells you to go and check your email, as an email will have been sent to you, so that you can activate your account.

Open your email and click on the link as directed. You will then be sent to the forum and will see the following message which means you have successfully registered.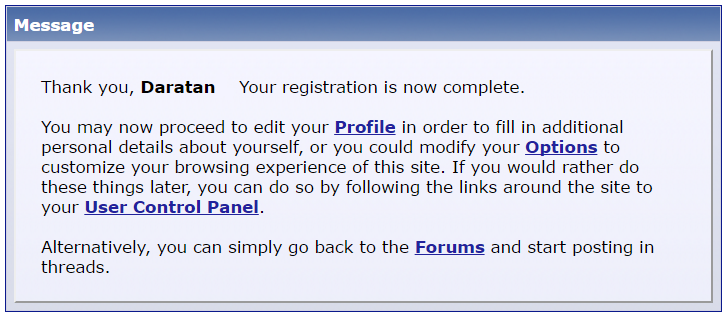 IMPORTANT: Please remember to keep a note of your username and password, so that you can log into the forum.