Farm Size Upgrade Info.

This post is just to help you understand how expansions are added to farms.
To upgrade a farm
, make sure you go from the farm you want to upgrade before you go to the Realtor Office and NOT a different one. To get to the real estate office, click on Map in the lower right corner of your game screen. Then click on Realtor Office.
Detailed instructions
should you need them for How to upgrade, costs of land expansions and requirements to buy them can be found in
Chapter 16:Land Upgrades of the Game Guide
Each time you buy an upgrade
it adds 2 rows of plots (fields).
You start out with a size 12x12 farm.
The next upgrade would be to 14x14 which will allow you to add 2 more rows to the bottom left and right of a farm.
Then upgrading from that to a 16x16 would again allow you to add 2 more rows to the bottom left and right, and so forth.
You do not lose any trees, crops, etc on your farm when you upgrade.
The exception to this rule
is when you plow new fields with the "Remove Space between fields" check mark added in your game preferences. This setting allows you to plow the fields closer together without any spaces between them which then allows you to plow more fields per farm than there would be with spaces between the fields. When this happens every now and then an upgrade will allow you to add 3 more rows to the bottom and right instead of the normal 2 rows. The difference in the amount of fields between plowing with spaces between fields and without spaces between fields are listed in the picture at the bottom of this post.
Each upgrade for a particular farm must be bought in size order. You can not skip sizes.
Upgrades start at level 15 and open up every 2 levels after that until you are past the requirements for levels. The price starts at 20,000 and will increase as the farm upgrades get bigger. The bigger farms are much more expensive after the 24x24 size. As you buy each upgrade, the previous one you bought will no longer show in the Realtor Office.
Example: If you were already at level 19, have never upgraded a farm, only the 1st upgrade will show unlocked in the Realtor Office until you purchase it, the rest of the upgrades also available at that level will show as Locked. You have to buy each one before the next one will unlock even if you have reached the level it will unlock at.
If you have more than one farm
, make sure that before you go to the Realtor Office that you go there from the farm that you want to upgrade as farms can be re-arranged and the farm prices are set for the farms when they were in original farm order before you moved them around. How to re-arrange farms is also explained in Chapter 16:Land Upgrades of the Game Guide.
As of MAY 2020, you no longer need to reload the game to buy another expansion. You can buy more than one upgrade at a time if you have enough coins or FC, but it's always best to upgrade then return to the farm you upgraded to make sure that upgrade happened. If ever an upgrade does not show just close the game and reopen it and see if the upgrade then shows. If you still can't see it make sure you have returned to the farm that you were on before you went to the Real Estate Office as that will be the one you tried to upgrade.
Farm sizes
With Spaces Between Fields and Without Spaces Between Fields: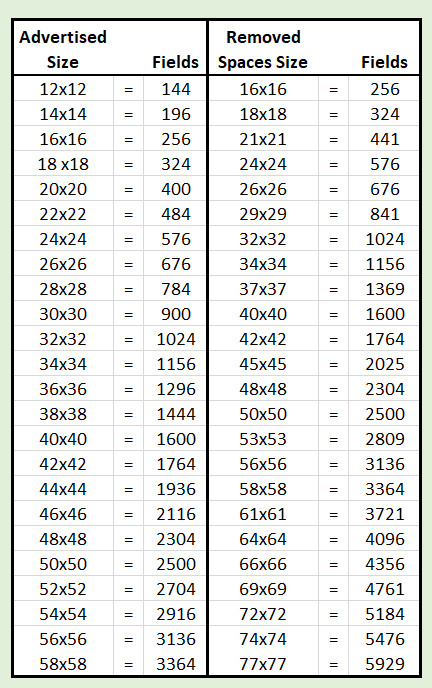 .